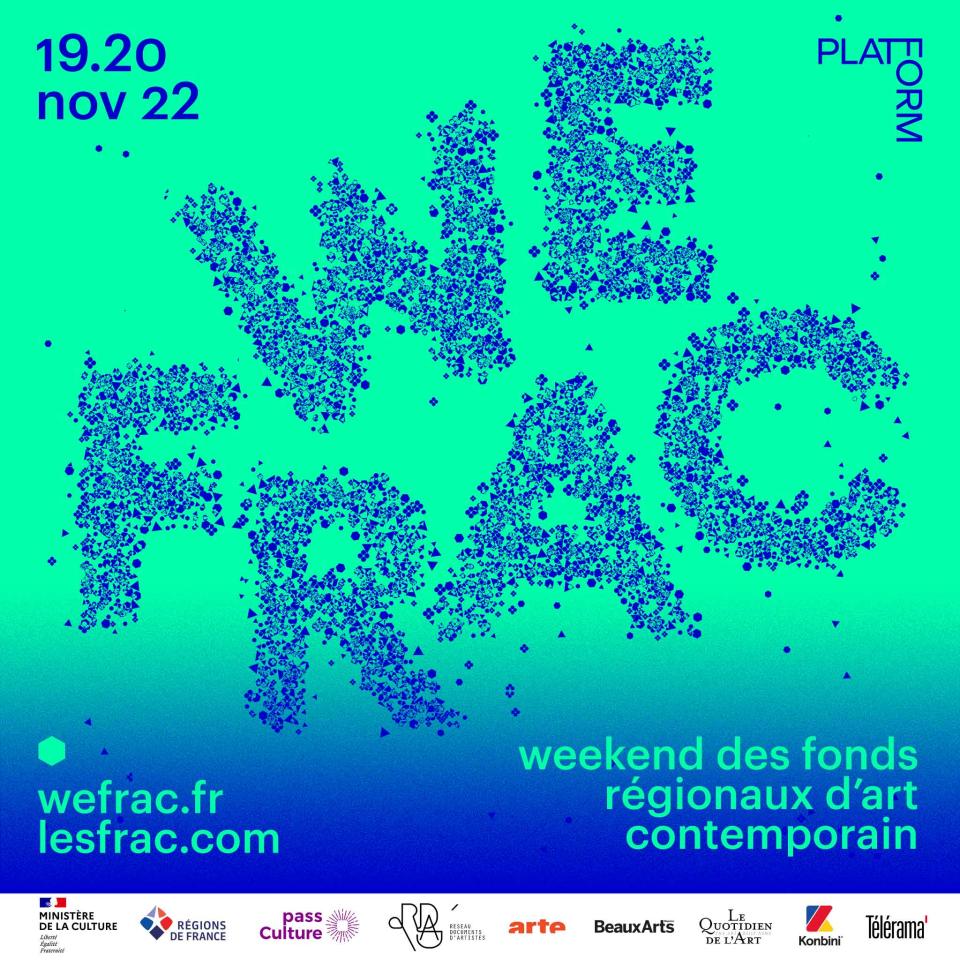 Le Réseau dda, partenaire du WEFRAC 2022 : découvrez les évènements artistiques
Video projection / Public meeting
Frac Bretagne / FRAC Poitou-Charentes / Frac-Athothèque, Angoulême / Rennes / Limoges
du 19/11/2022 au 20/11/2022
Laurie-Anne Estaque, Jimmy Richer, Charlotte Vitaioli, Julie C. Fortier, Sharon Kivland, Catherine Rannou, Camille Girard et Paul Brunet, Virginie Barré, Thomas Tudoux, Pascal Jounier Tremelo, Yves Trémorin, Ron Haselden, Jean-Yves Brélivet, Samir Mougas, Marcel Dinahet, Hervé Le Nost, Yvan Salomone, Pascal Rivet, Nicolas Floc'h, Thomas Auriol, Emmanuelle Rosso, Anaïs Touchot
It is with great enthusiasm that we have entered into a collaboration with Platform, the Frac network, to introduce the public to contemporary artists gathered in our documentary collections.
On the occasion of the Weekend of the Fonds régionaux d'art contemporain, the Réseau documents d'artistes in collaboration with the Documents d'artistes, proposes a series of free public meetings, accessible to all, adults and young people.
**Rennes - Frac Bretagne
Saturday 19 and Sunday 20 November, 2 - 4:30 pm: looped screening of filmed portraits of artists produced by Documents d'artistes Bretagne. 
Limoges - Frac-Artothèque Nouvelle-Aquitaine
Saturday, November 19 - 2:30 pm: "Paroles d'artiste" with Laurie-Anne Estaque Auditorium of the Musée des Beaux-arts de Limoges (place de l'Evêché, Limoges), in partnership with the Frac Artothèque, LAC&S - Lavitrine and Documents d'artistes Nouvelle-Aquitaine
Angoulême - Frac Poitou-Charentes
Saturday, November 19, 2-6pm: Le Tarot du rameau d'Or by Jimmy Richer**
Performance and silk-screening workshop
Activated by the artist with the participation of the screen printing workshop Les Mains Sales. Participants are invited to use a divinatory tarot deck imagined by the artist, Le Tarot du rameau d'Or, which will reveal their own death. Thanks to the silk-screen printing workshop of Angoulême,
Les Mains Sales, everyone can then print the design of the card that has been revealed to them and thus leave with a silk-screen print and unpublished information about their own end.
Since last September, filmed portraits of artists made by the regional teams are broadcast on lesfrac.com.
A perfect opportunity to highlight artists present in the Frac's collections or programs.