Les Regards du Grand Paris
Julien Guinand, Karim Kal, Bertrand Stofleth
Photographic commission entrusted and supervised by the CNAP & the EPCC Médicis-Clichy-Montfermeil, 2016-2026
March 2017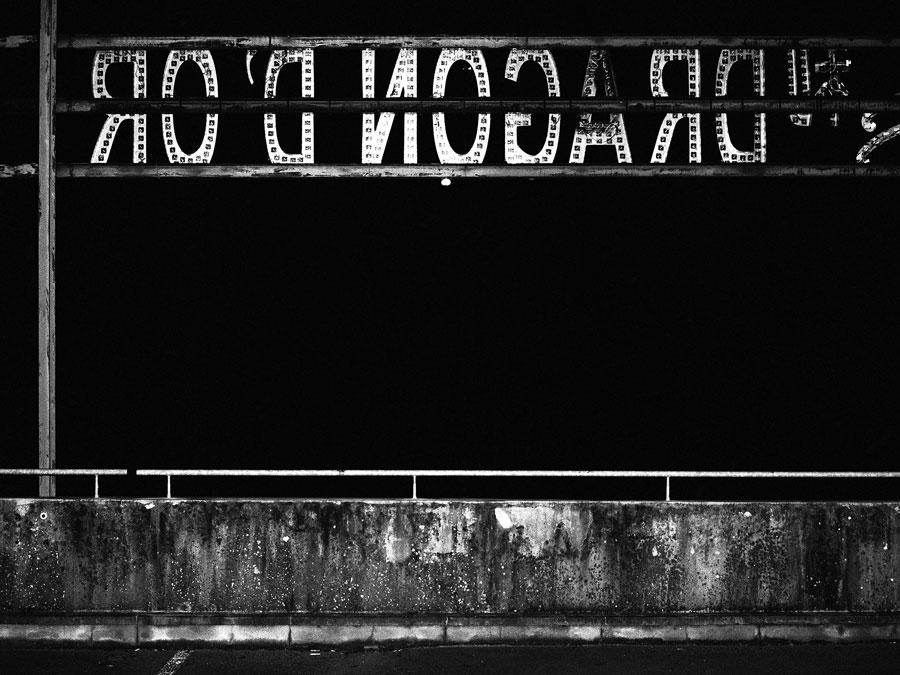 Les Regards du Grand Paris
Année 1 : « Greater Paris - World City »

The Ministry of Culture and Communication has entrusted the Médicis-Clichy-Montfermeil Public Establishment of Cultural Cooperation and the National Centre for Plastic Arts with supervising the photographic commission "Les regards du Grand Paris—Eyes on Greater Paris"
This commission, which is open to a diverse range of photographic practices, invites authors working in the broad field of the documentary image to develop an artistic project which includes production methods and innovative forms of dissemination. A ten-year horizon (2016-2026), with a series of commissions involving several photographers every year, is being used for the implementation of this project, which will help to develop new representations, urban and social alike, of Greater Paris, and contribute to new experiments, artistic and visual alike.

In 2016, the projects of ten artists were selected to produce a commission: Julie Balagué, Raphaël Dallaporta and Philippe Vasset, Gabriel Desplanque, Patrizia Di Fiore, Julien Guinand, Karim Kal, Olivier Menanteau, Sandra Rocha, Bertrand Stofleth, and Chenxin Tang.

This digital Focus presents the research on the Greater Paris area undertaken in this context by Julien Guinand, Karim Kal and Bertrand Stofleth, three artists living in Lyon and represented by Documents d'artistes Auvergne-Rhône-Alpes.
---
Julien Guinand
L'anticlinal, 2017
A photographic series in colour and black and white, 110 x 137 cm and 20 x 30 cm, and an arrangement made up of a sound piece (furniture, vinyl turntable, vinyl disk) and an experimental portfolio.
Cities of Suresnes, Arcueil, Montreuil and Meudon.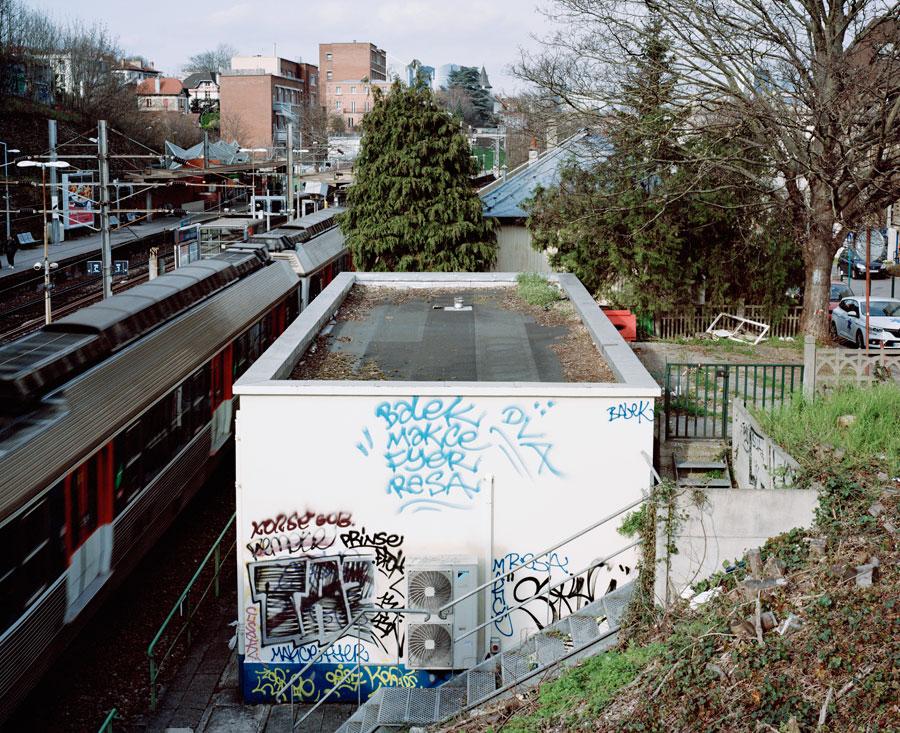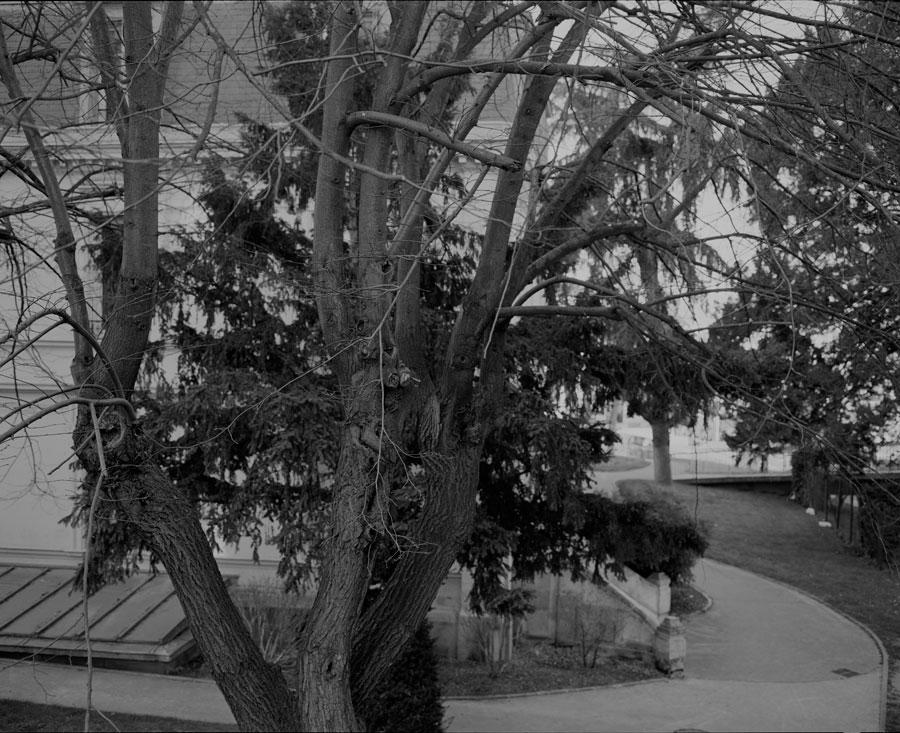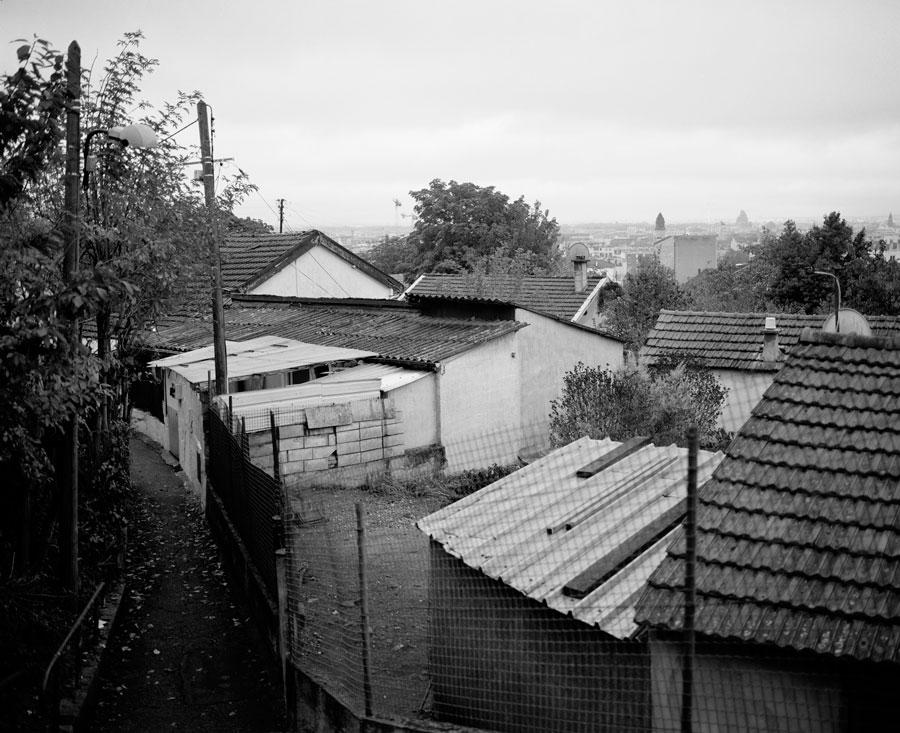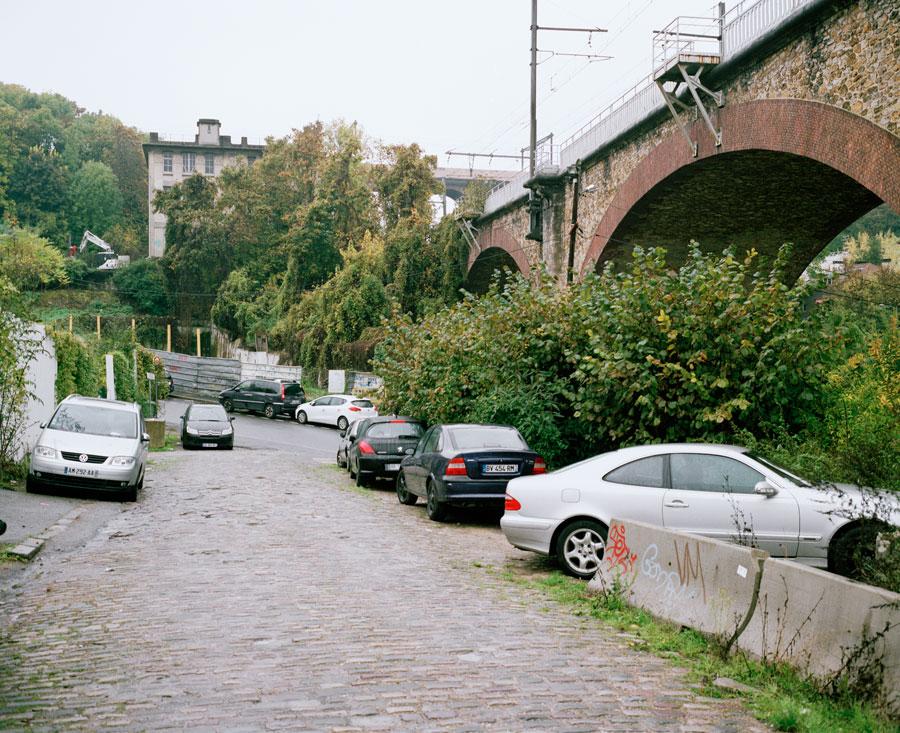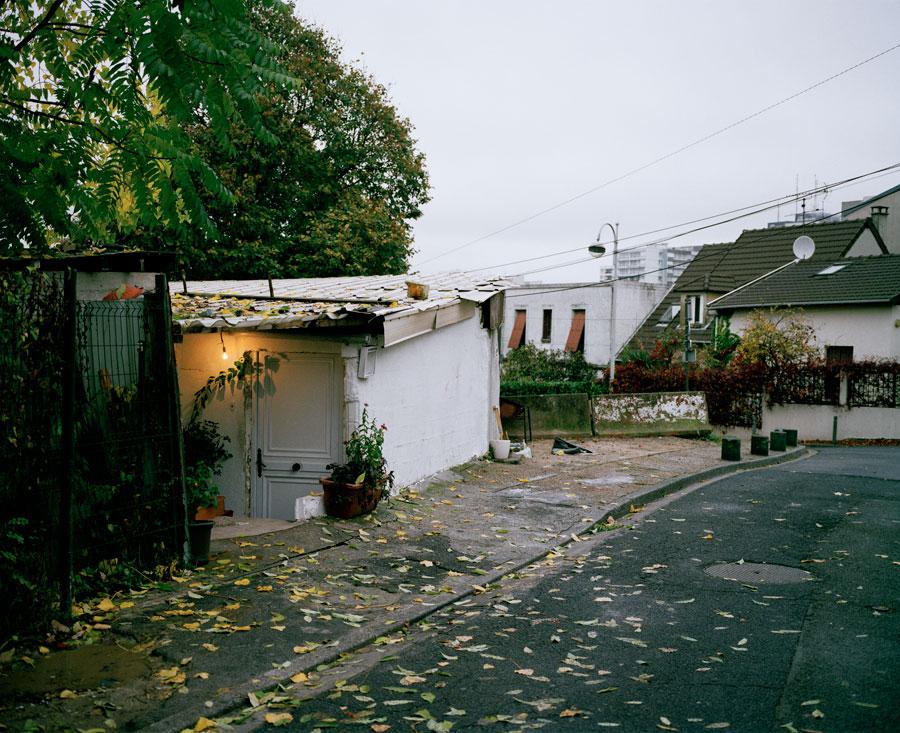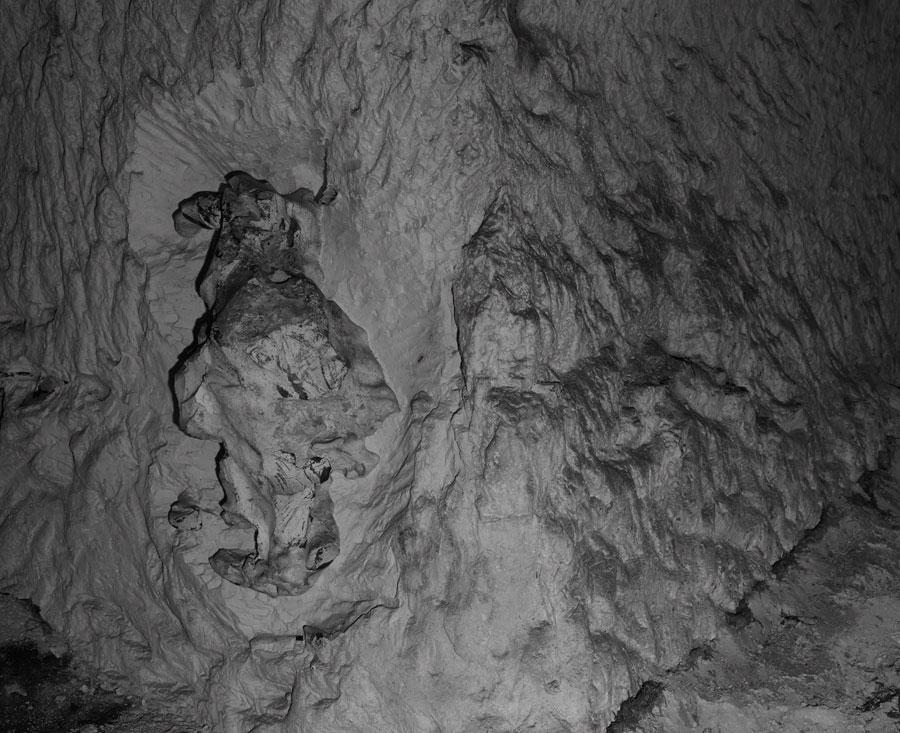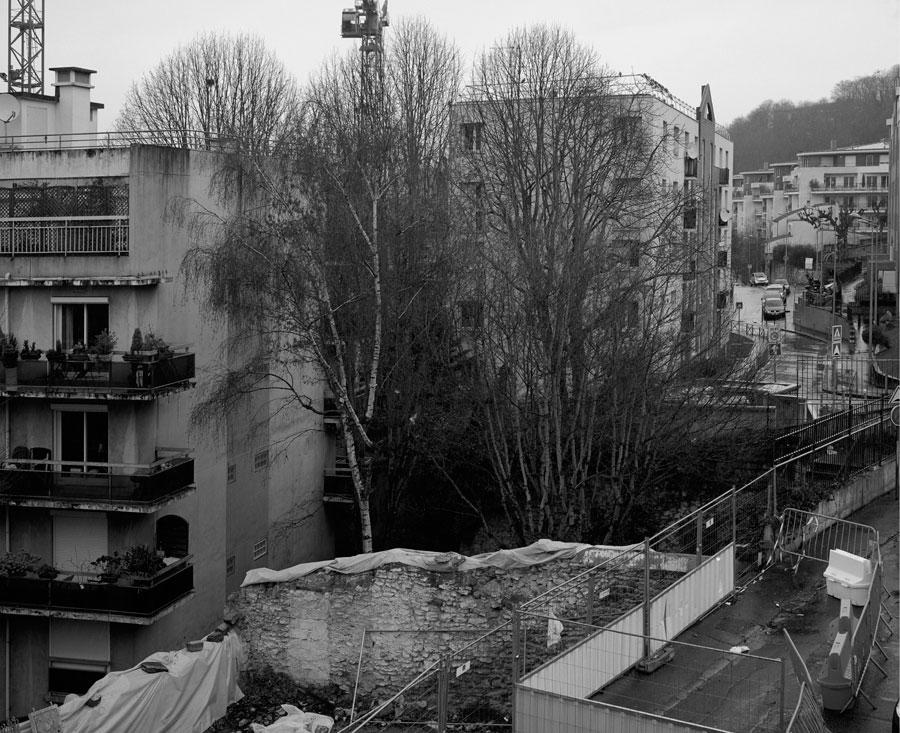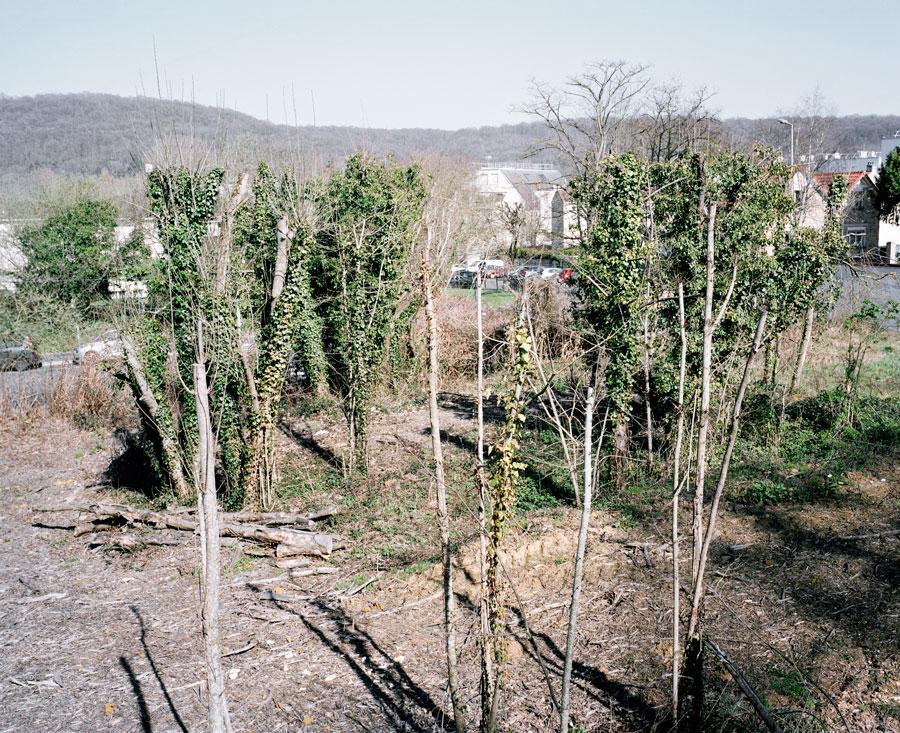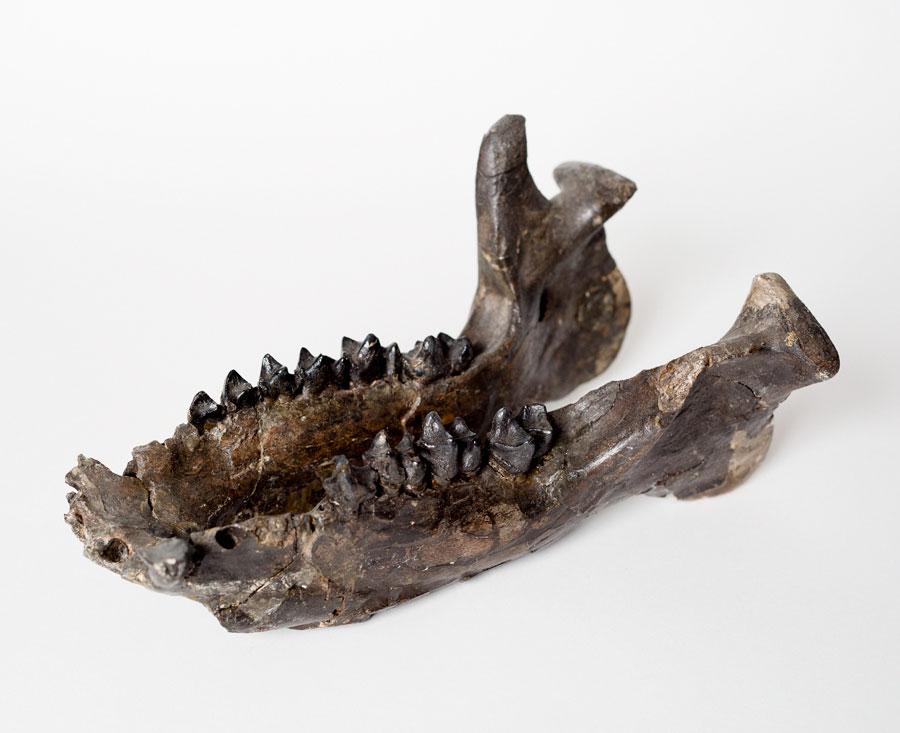 Greater Paris is an eclectic topographic space whose rough edges it is Julien Guinand's intention to document. How does the city, as a normative space, come to terms with geography, vegetation and unruliness? How do the economic, practical and political constraints of the population find their place in it? The project reveals the areas of resistance to the ideal of architectural plans, and lets the perceptible existence of the city emerge in the landscape.

"Today, humanity is defined as a geological force, and thus traces the outlines of a new era of the earth. I want to associate the study of terrains with the writing of human history.
In these places, frontality enables me to compose a view: "inside the view", heterogeneous elements are related, layers are overlaid, expanses are folded into a plan: before seeing a subject, I see a picture. This way of depicting space permits me to create a dialogue between aesthetic data and geographical, economic and political configurations. Different levels, rough edges, vegetal zones, and mountains as a metaphor of a resistance to new urban rules: the city must be "safe, clean, salubrious and flat".

I started out from this simple idea: follow geological folds as a constraint for undergoing the experience of this Greater Paris territory.
I followed the Meudon anticlinal, that geological fold to the south of Paris which frames and draws the passage of the Seine, and I have tried to show elements which result from this particular topography.

This is an important point on the tectonic plan, a major point for following the drift of the European and American continents. Beneath the Rodin hill are listed quarries where fossils from the tertiary have been discovered. Above, there is a succession of urban development projects (ZACs [local development zones], residential neighbourhoods…)

At one moment in my research, I was prompted to go down into the quarries with a palaeontologist, a biologist and a musician. I was trying to describe the visible and the hidden, and the positive and negative of a landscape and a territory."

Note of intent, Julien Guinand, 2017.
---
Karim Kal
Ligne Dée, 2017
A series of 40 photographs, inkjet prints, glued on dibond, 135 x 180 cm
Line D of the RER, from Grigny to Corbeil-Essonne.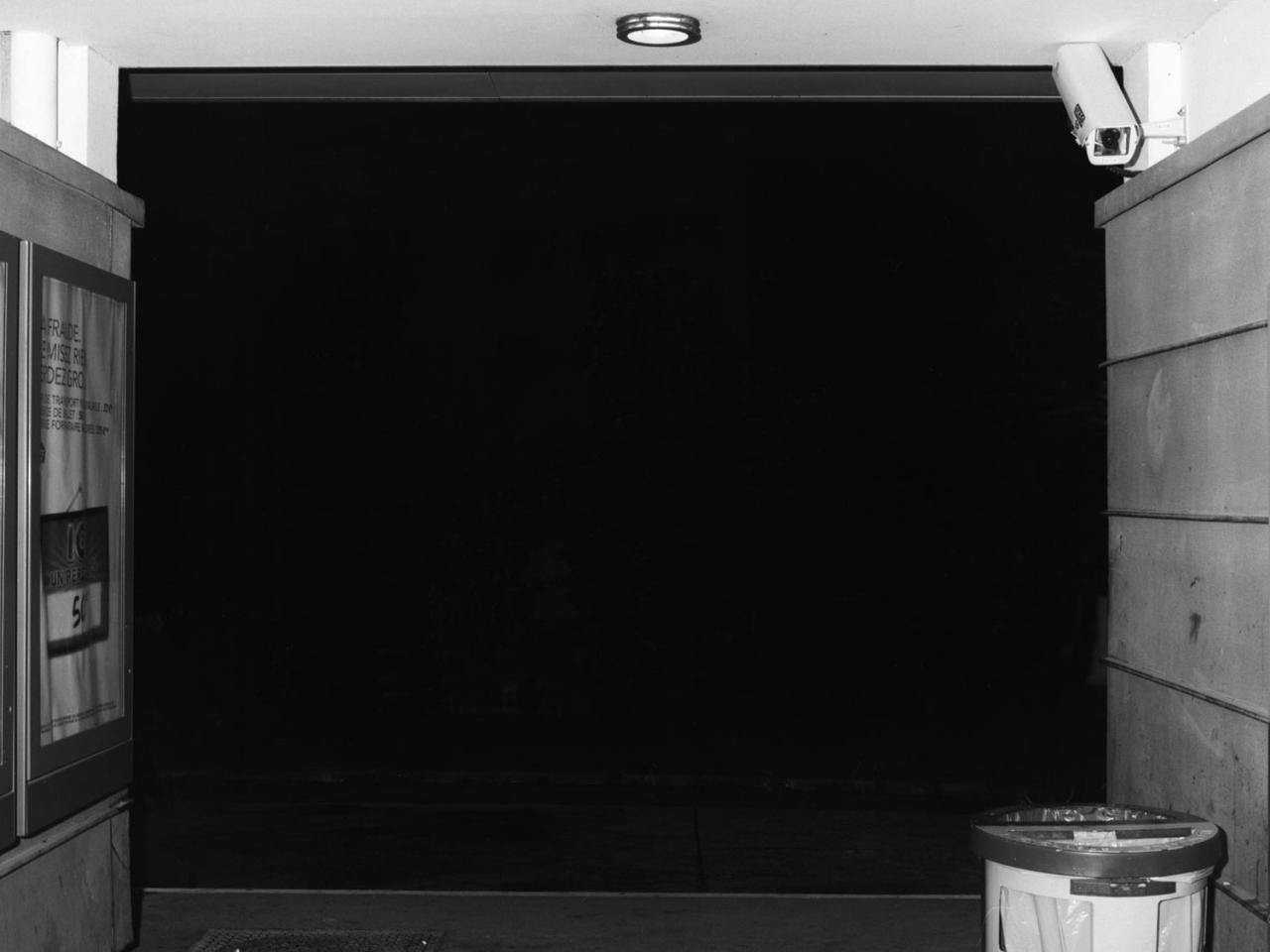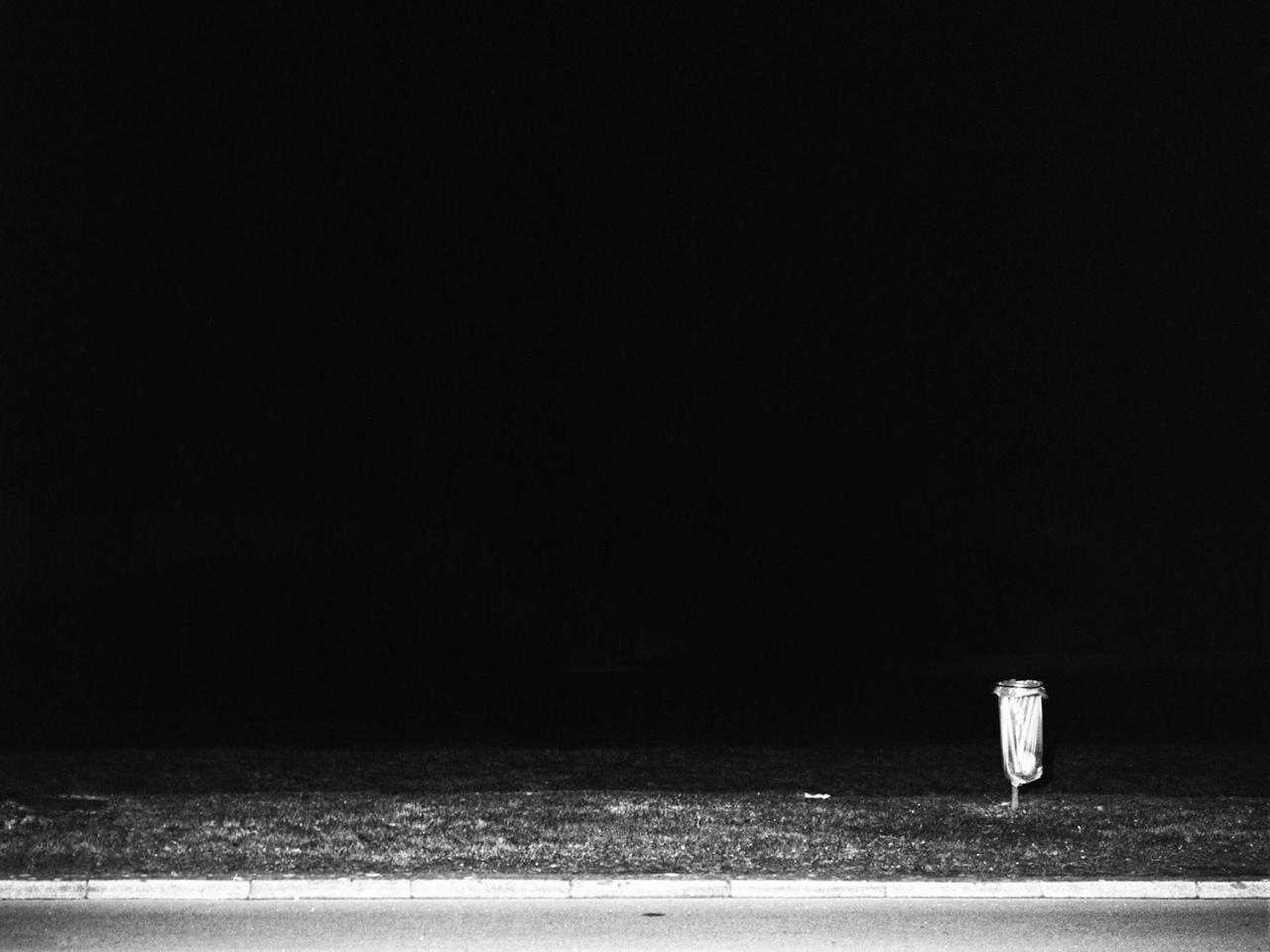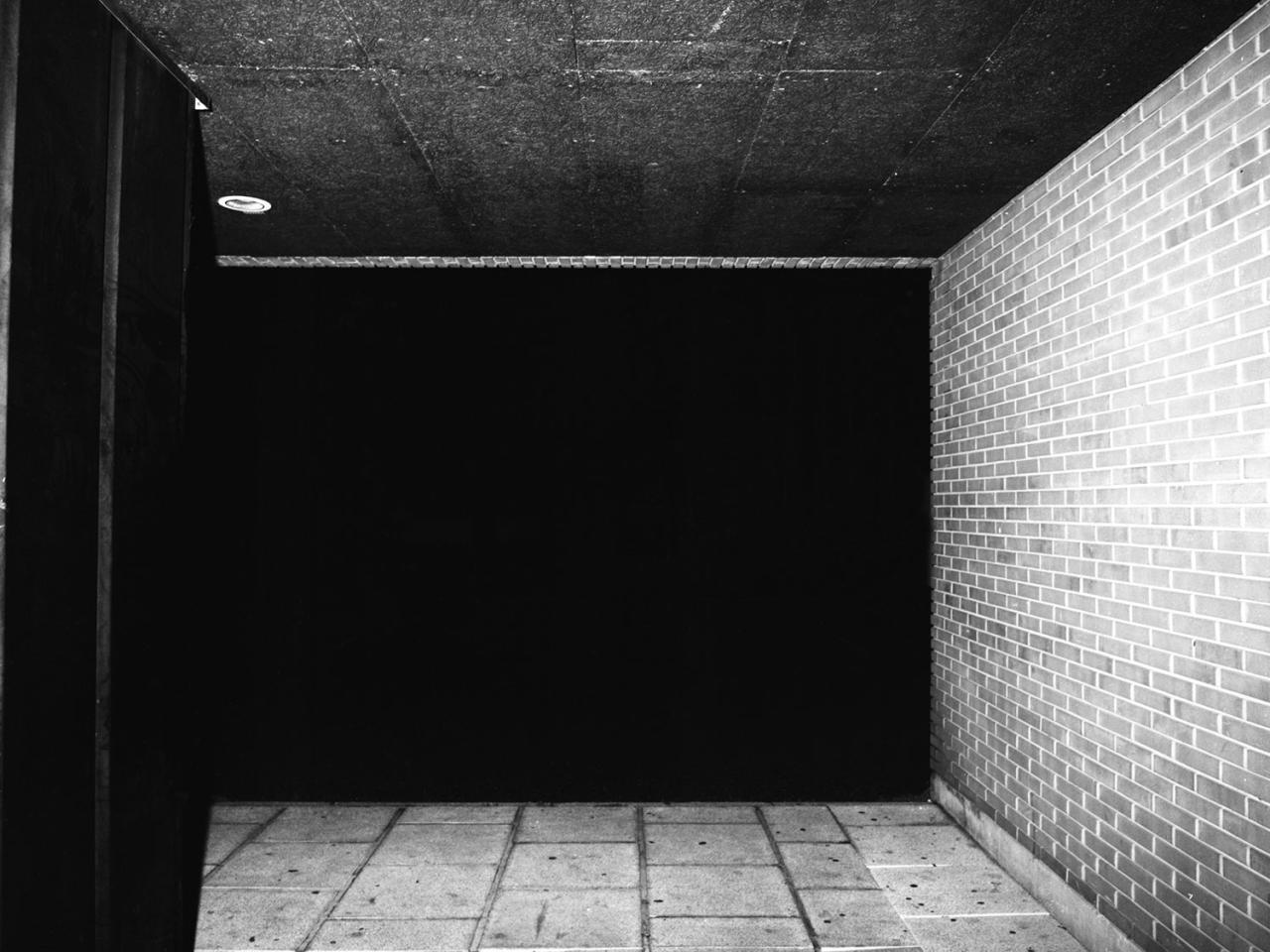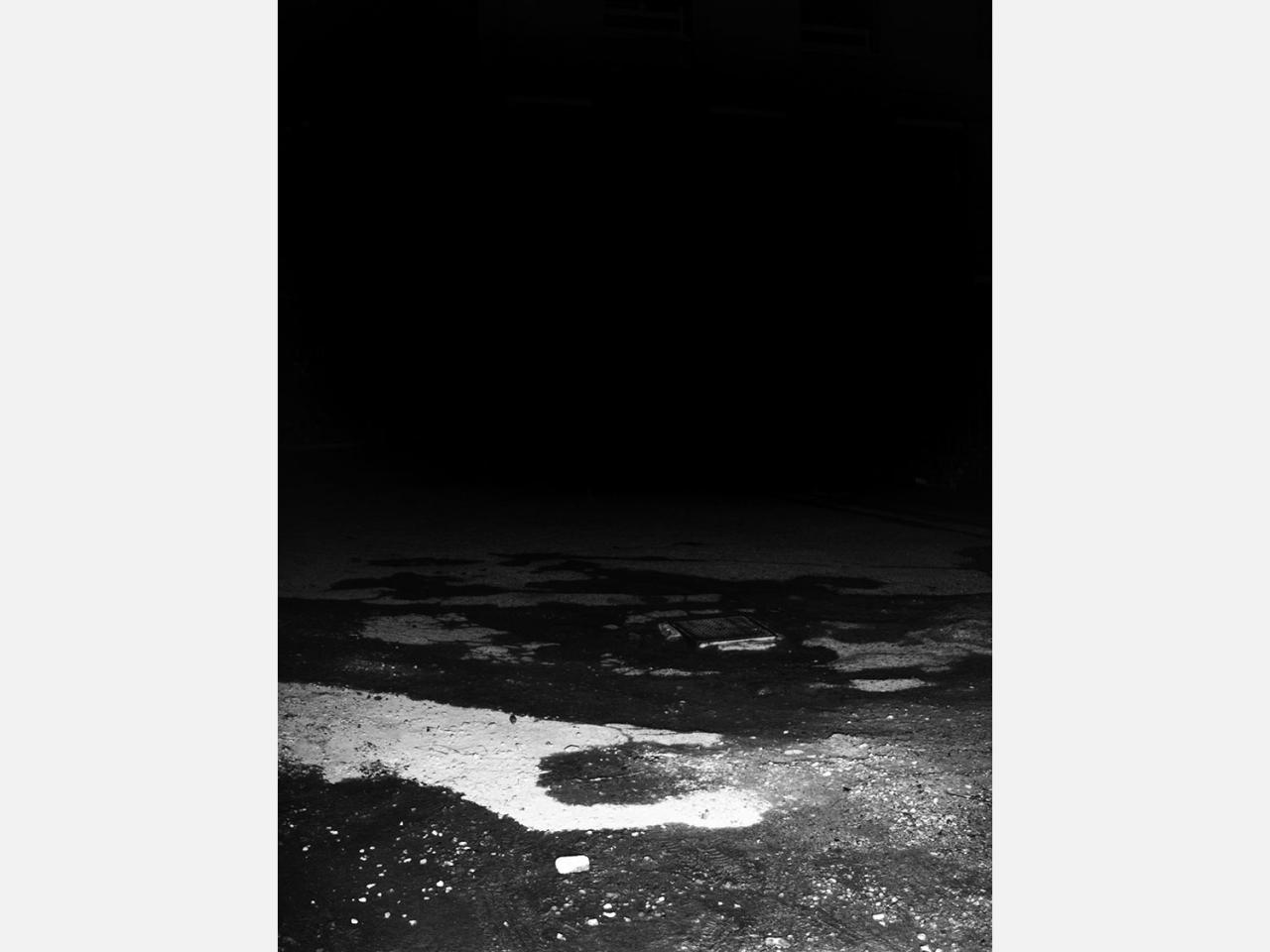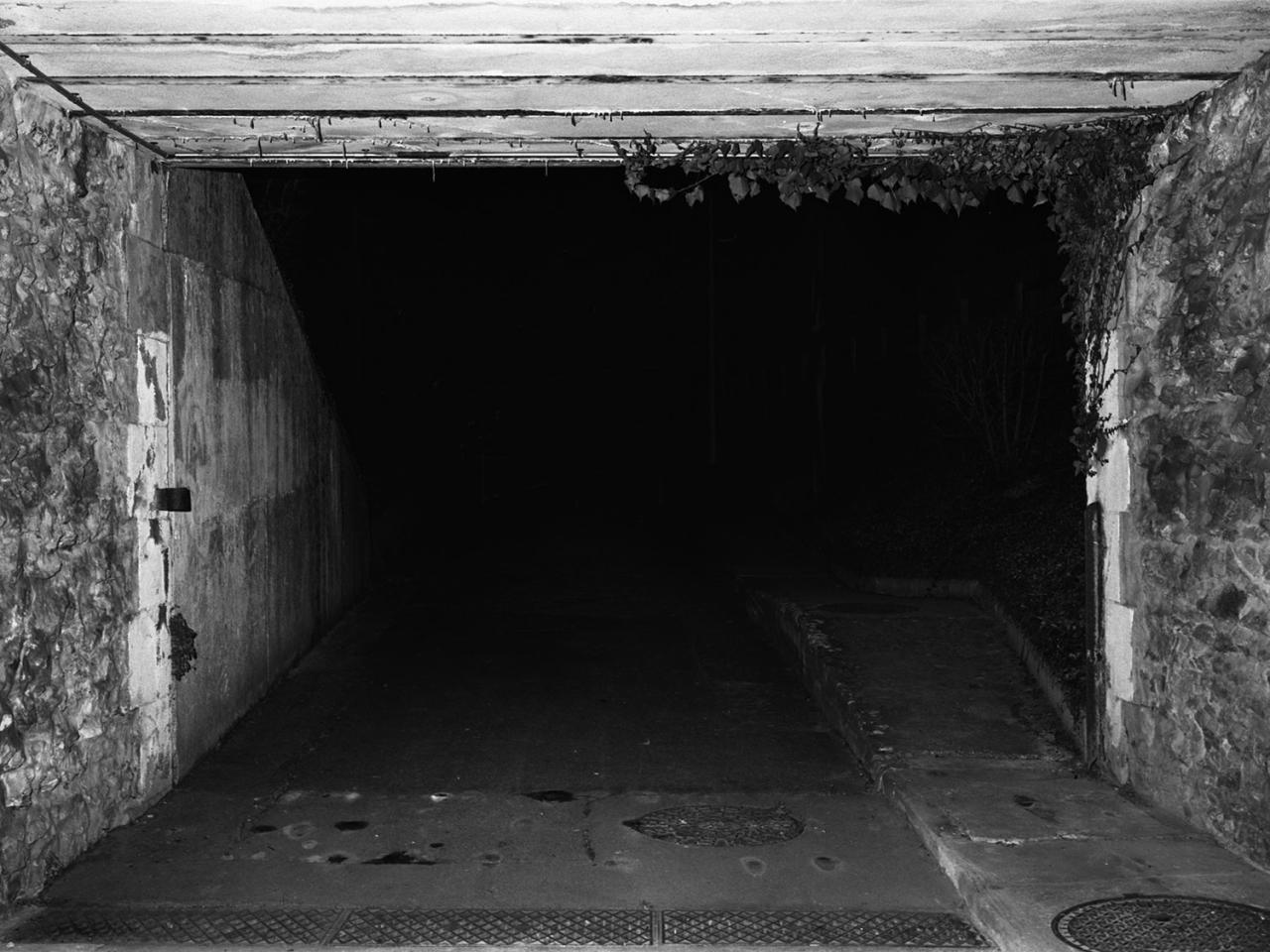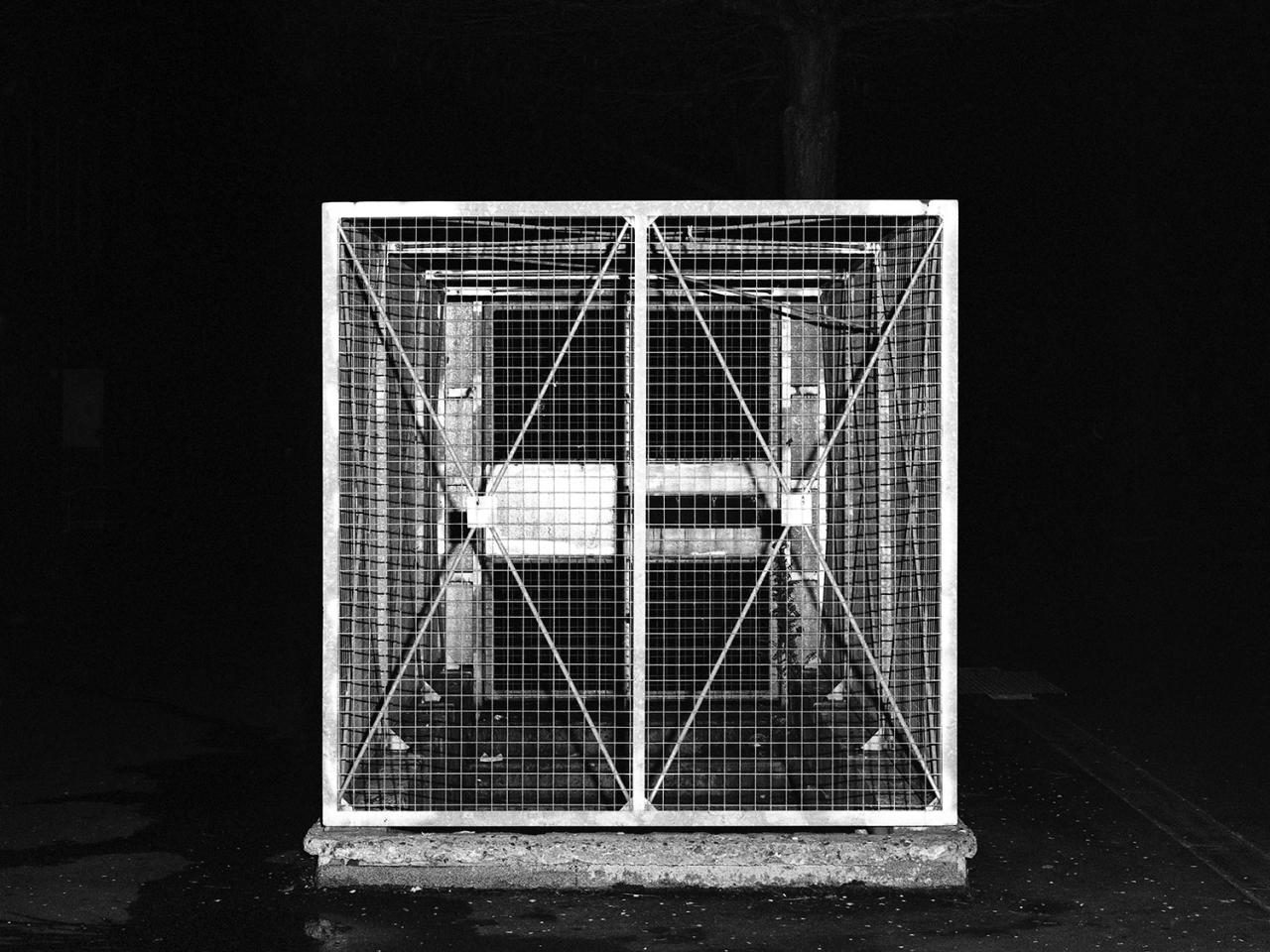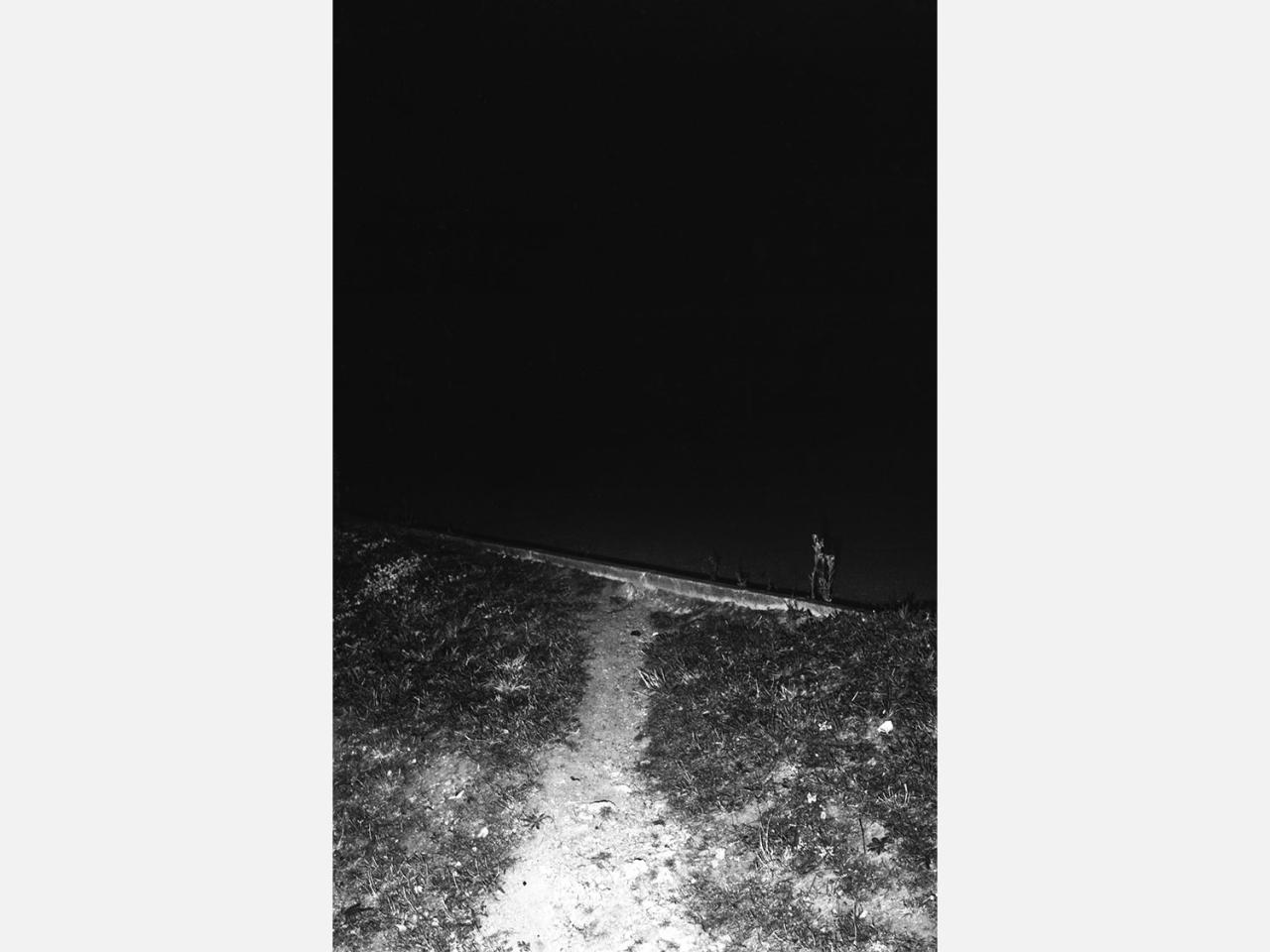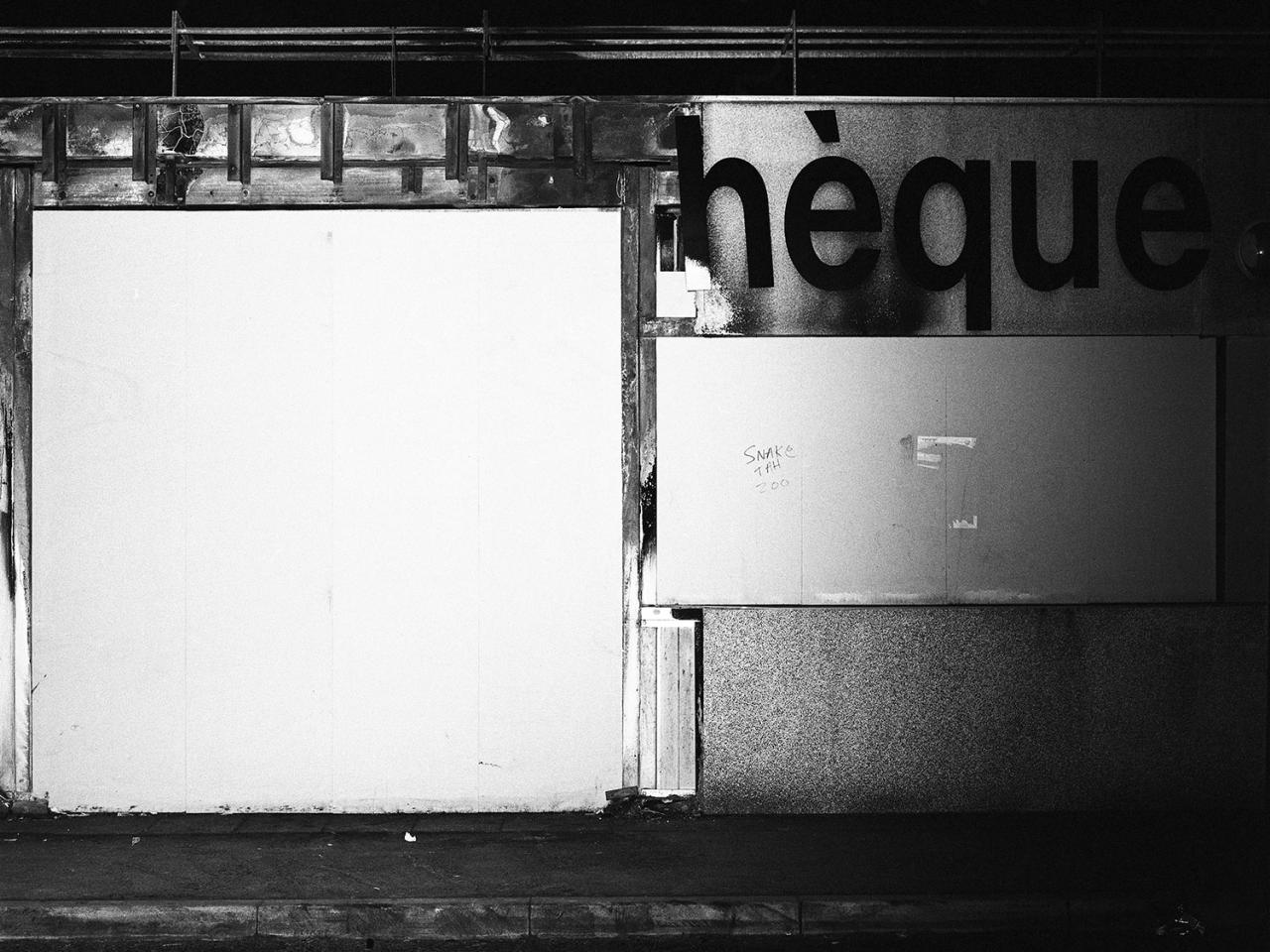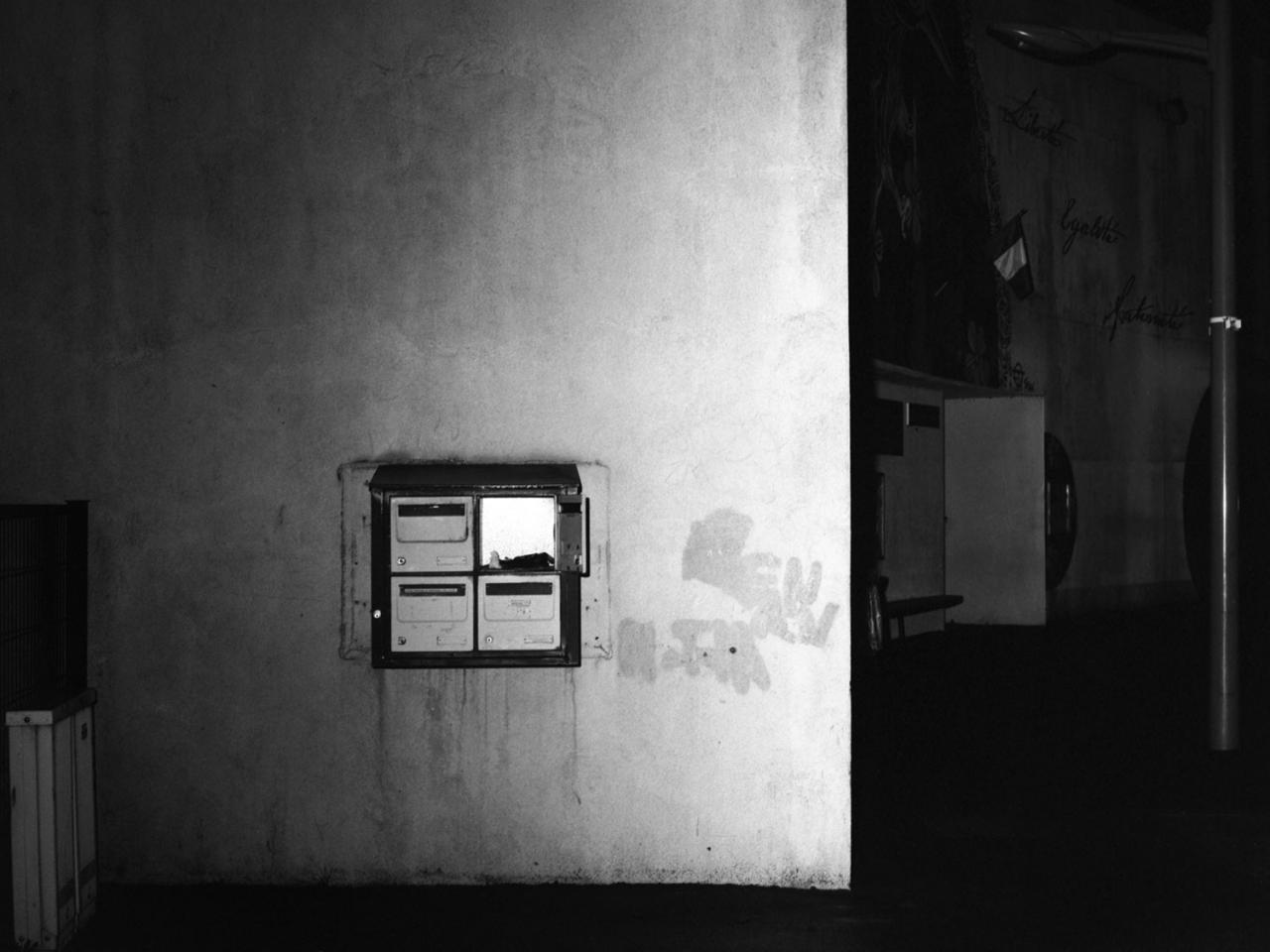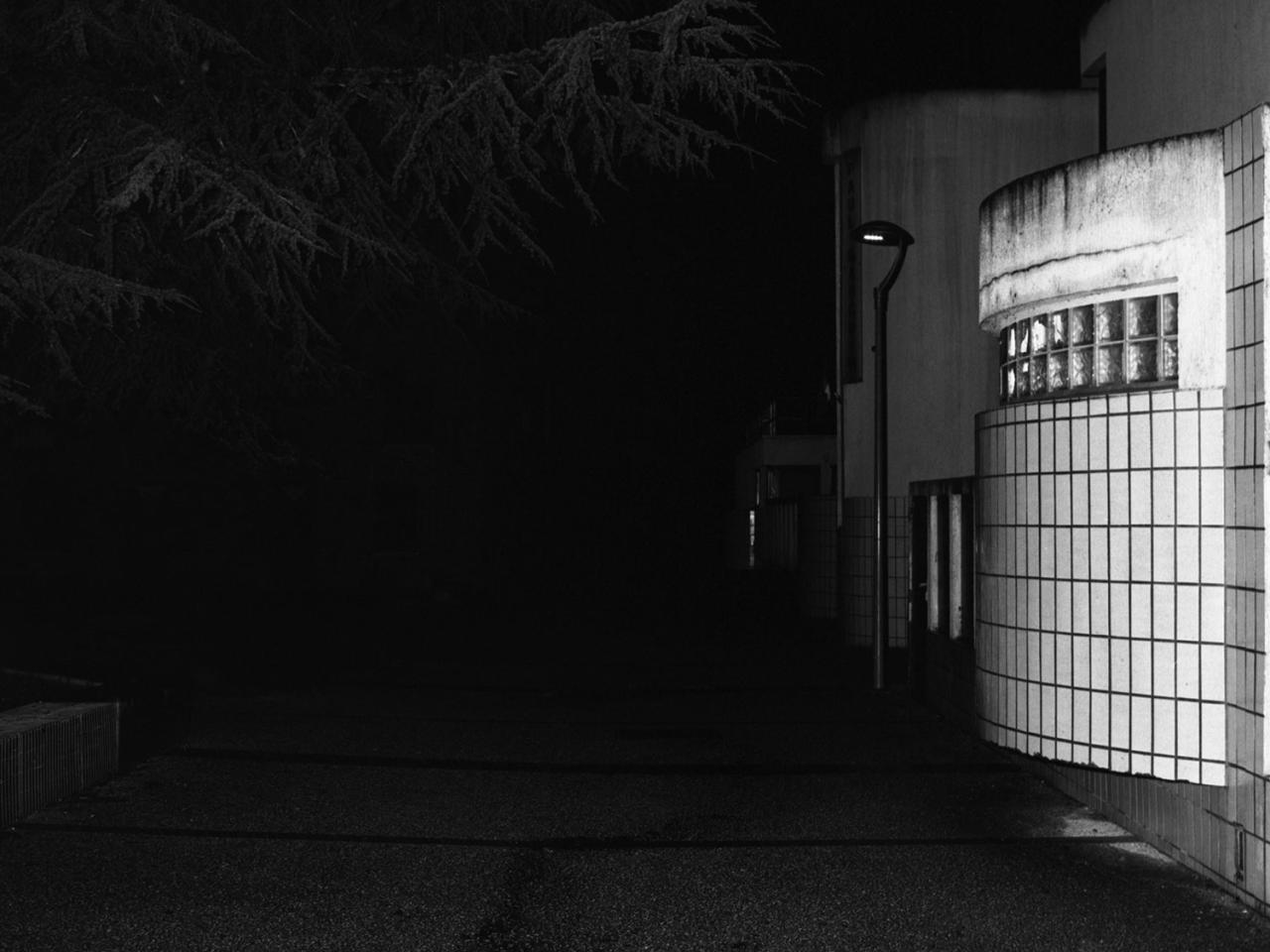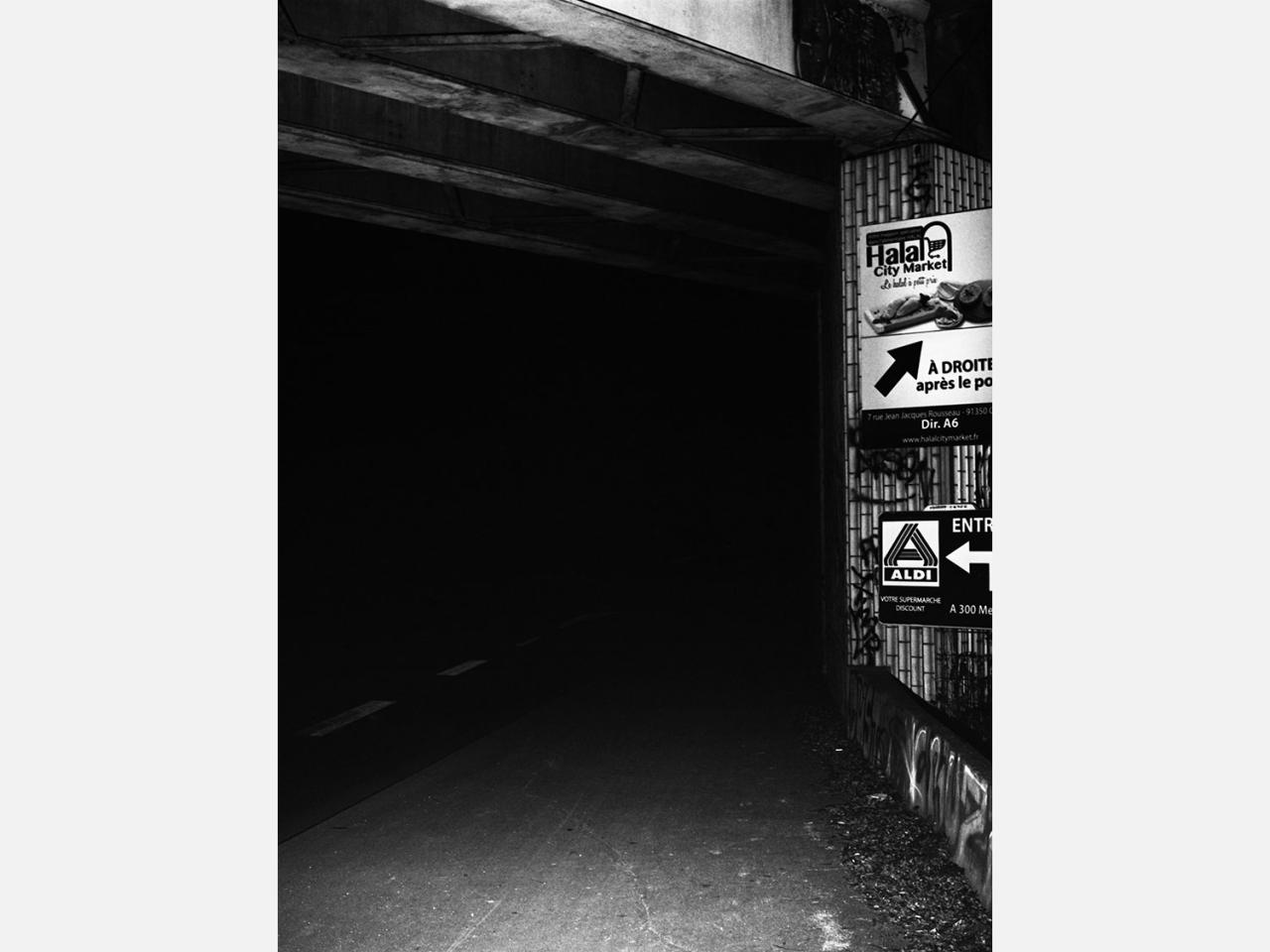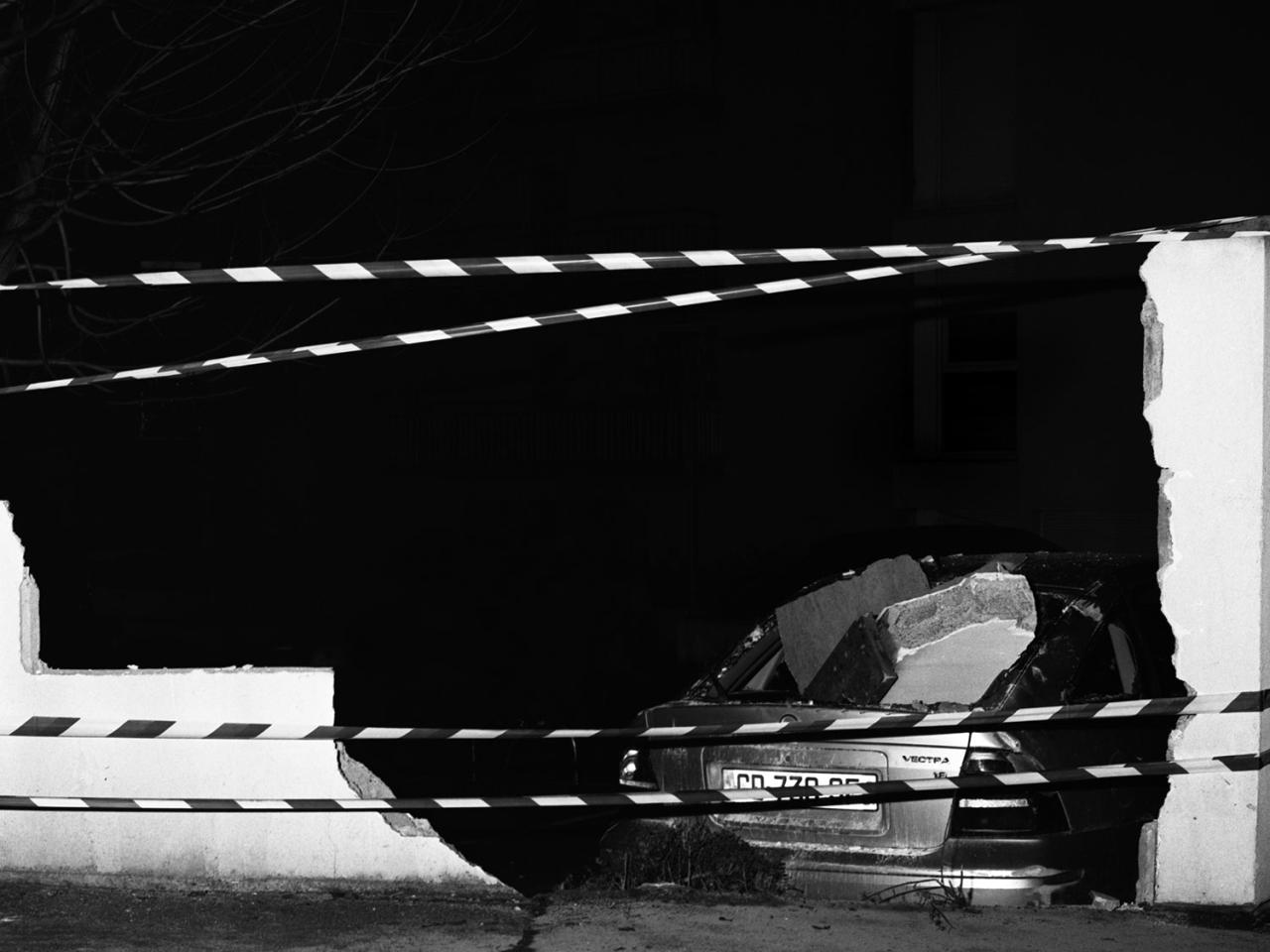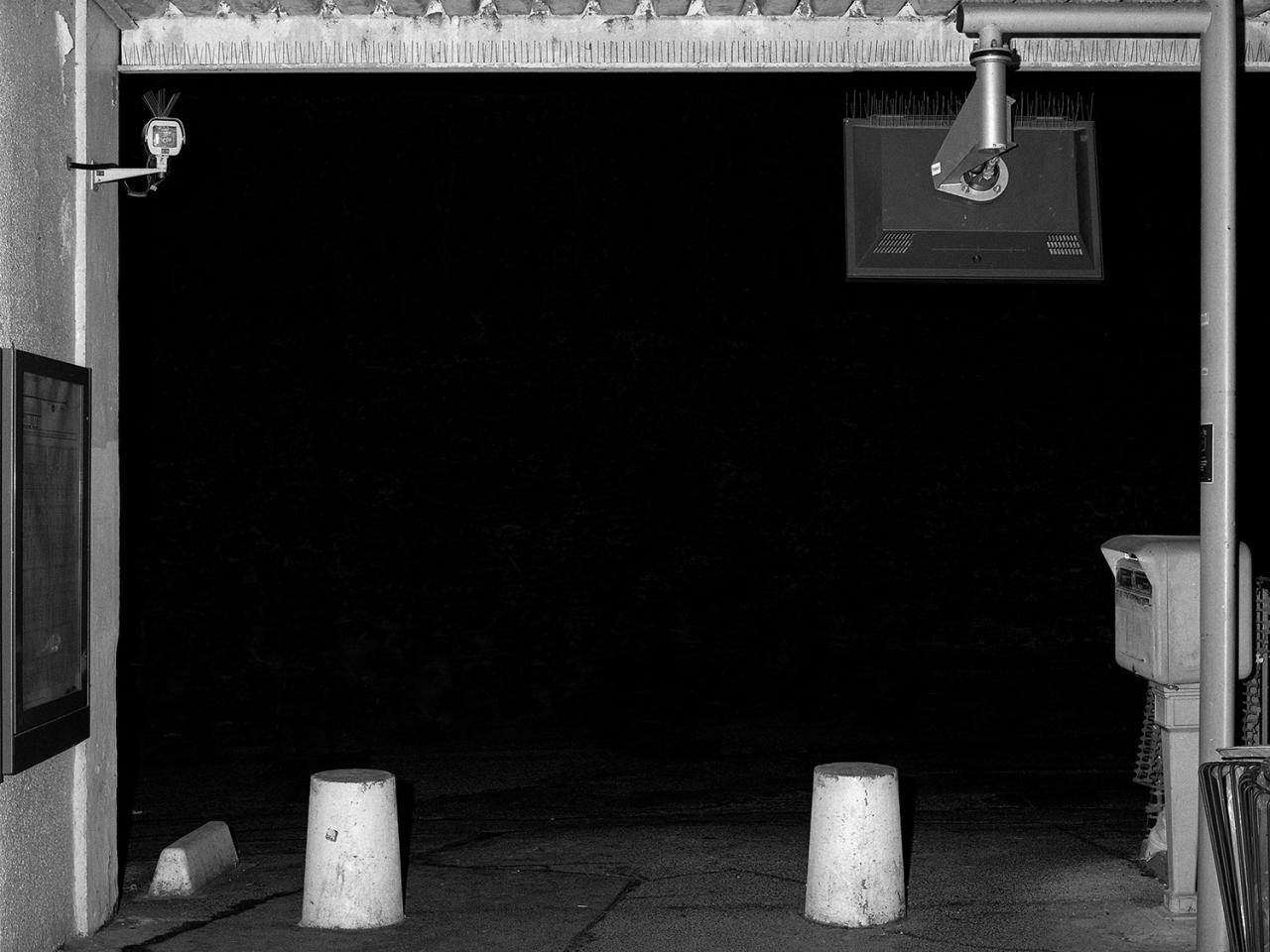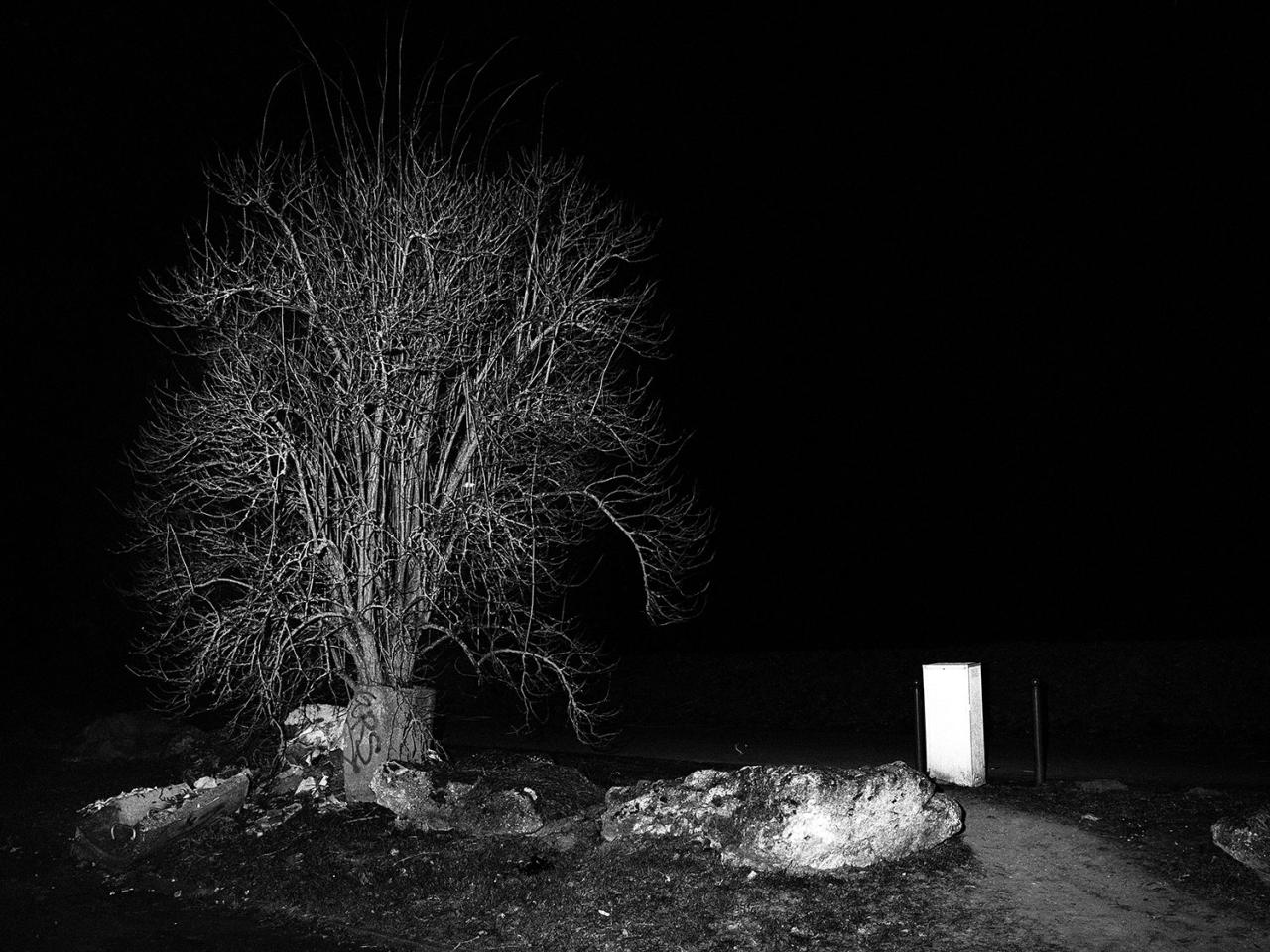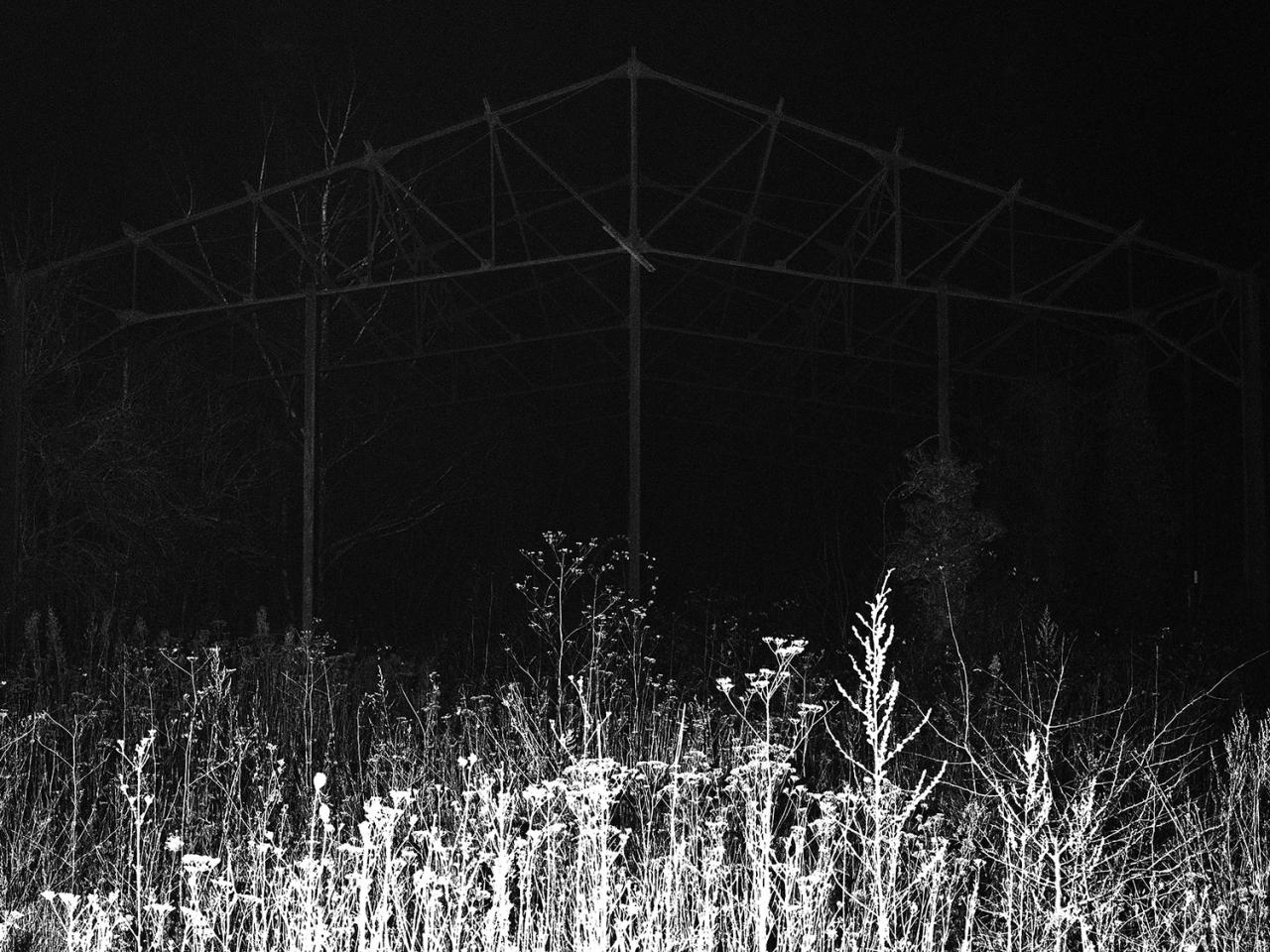 Karim Kal's project follows the RER Line D, from Grigny to Corbeil. The photographs, taken at night with a short-range flash, are at once disquieting and familiar. For over and above the strangeness of the image presented, we are intimately acquainted with these forms and materials, these passages, these shelters, and these short-cuts which take us more quickly to the exit or the next train. In the raw black-and-white contrast the tension also appears between the collective space and the private space, between planning and use, and between authority and transgression.

"Images produced in the working-class cities of the Essonne department, along the RER Line D. From Grigny to Corbeil-Essonne, the RER line defines a territory and emphasizes the sense of relegation caused by its numerous delays. The nighttime landscapes start out from clues about collective life, and form potentially projective images."

Note of intent, Karm Kal, 2017
---
Bertrand Stofleth
Aeropolis - Grand Paris, 2017
An installation devised around five large format photographic prints, 80 x 100 cm framed.
An augmented reality system (accessible via a dedicated app, developed on tablette and smartphone) will subsequently make it possible to discover, for each chapter, a series of a dozen images conceived as sequences, each one offering explorations of these different worlds resulting from the aerial.
An airport trolley rounds off the arrangement, acting like a physical anchor of the installation..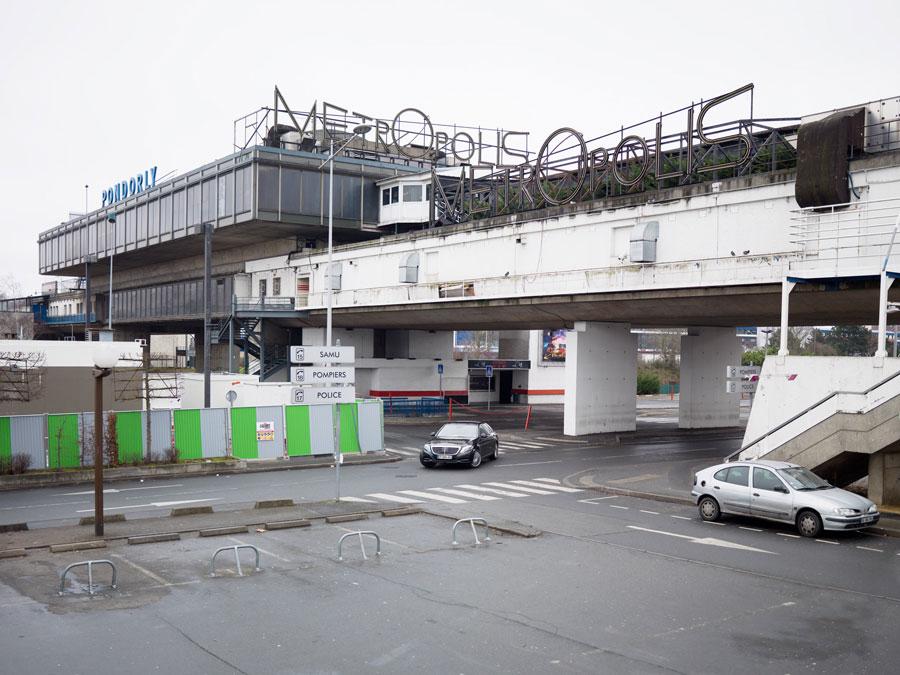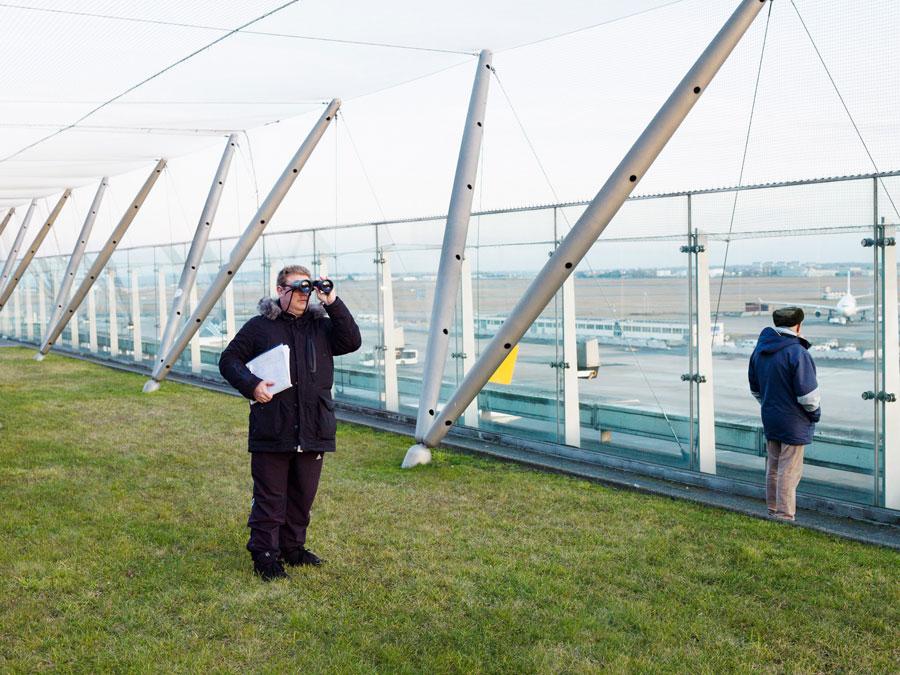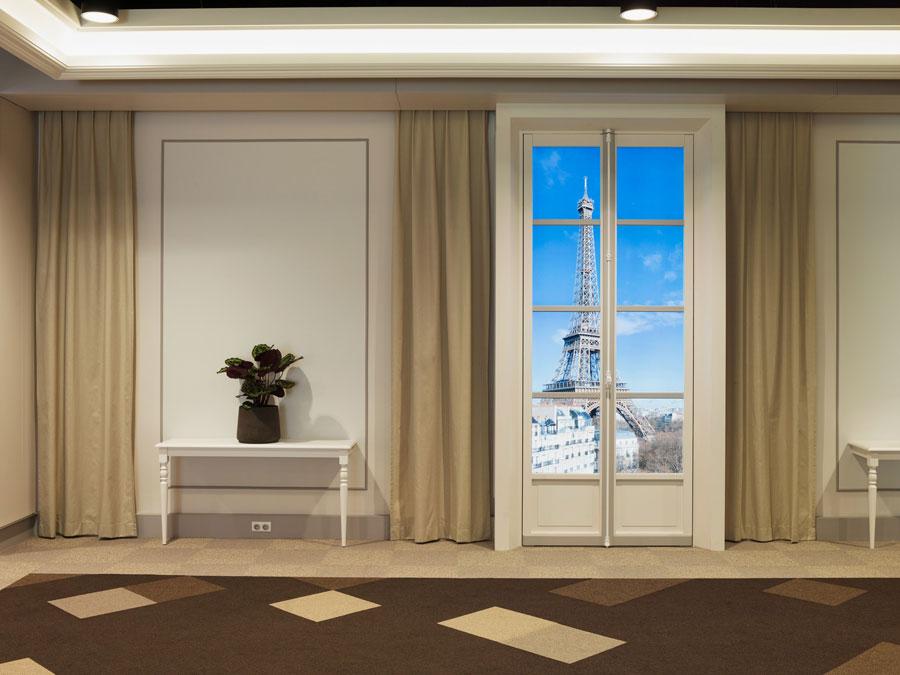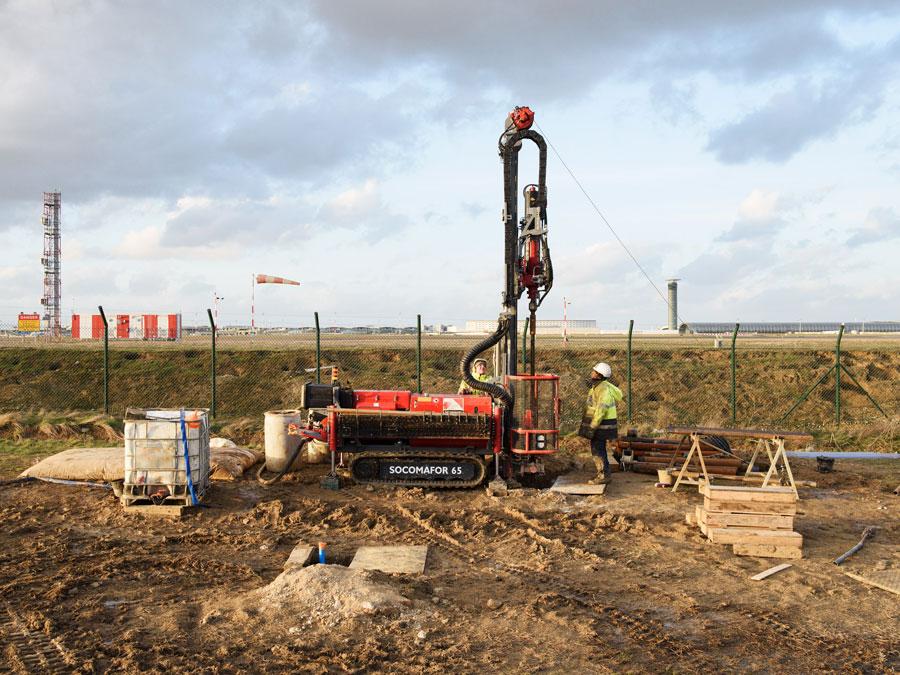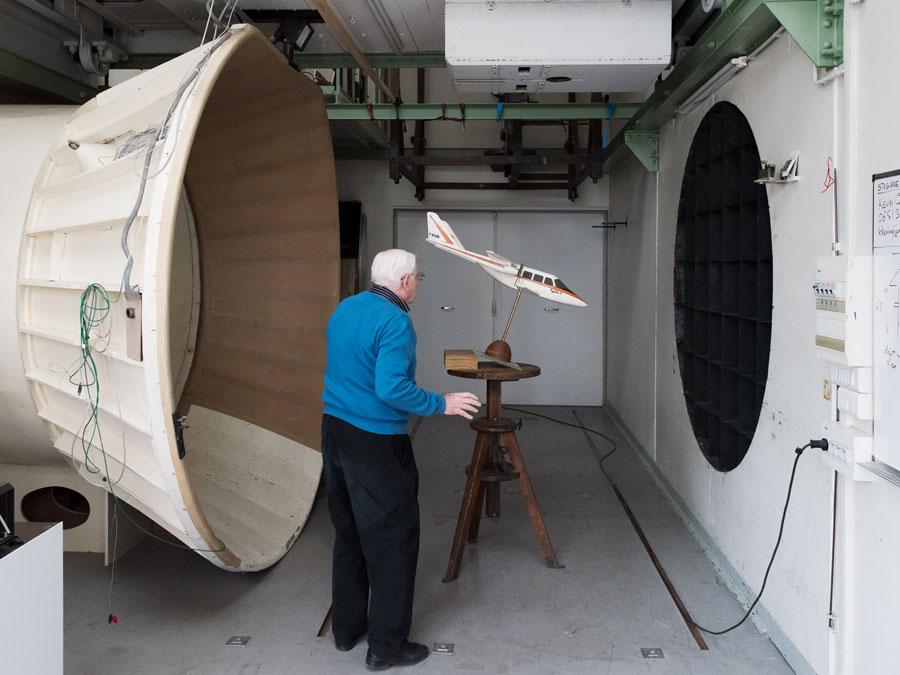 "The "Aeropolis – Grand Paris" project is concerned with the three main Paris airports (Le Bourget, Orly and Roissy) and the way they echo over all the metropolitan area. Overlapping history and contemporary reality, and the human anecdote and documented analysis, "Aeropolis" looks at the airport as a hybrid city pushed into the outskirts, but also as an integral part of major modern networks and urban challenges, announcing its possible changes. It offers a critical reading of the landscape, a journey on the ground, at once spatial and temporal. It explores its limits, in the interstice, a dialectic and dynamic reading of the signs and spatial factors discovered. A major part of the project makes room for actors, human encounters, and the lesser histories—as well as History with a capital H—which are woven around and in the interstices of the "global hub".

"Aeropolis" documents Greater Paris and its changes by way of an at first glance paradoxical angle which involves going to the city's outer edges, to its almost "repressed" zones and those "non-places", to use Marc Augé's expression, from which there immediately emanates a whiff of artifice and inhumanity. Basing his project on several works in the human sciences, Bertrand Stofleth revisits the lengthy history of aviation and Paris airports, and the utopias and human realities attached to them, along with this recurrent and powerful idea: the airport can also be thought of as a marker or milestone, an outpost, an urban laboratory or a "hyper-place", as it is defined by the geographer Michel Lussault. It is a city outside the city, which constitutes at once its reflection and its portent, experimentation. […]

The photographic project does not champion any closed thesis, rather it tries to explore airport territories by taking into account their contradictions, their zones of friction, and their paradoxes: an urban "outside" which contains unsuspected "insides", which themselves hold out to the city a mirror, by reflecting its probable future development; a future which contrasts the political city with the model of the commercial city, etc. An airport is a hub of communications and contradictions which have to be dissected and analyzed: somewhere between hyper-functionality and powerful architectural gesture, between a space physically rejected to the outskirts and a hyper-connected space, somewhere between smooth space and striated space, between urban reality and fiction or utopia."

Note of intent, Bertrand Stofleth, 2017.