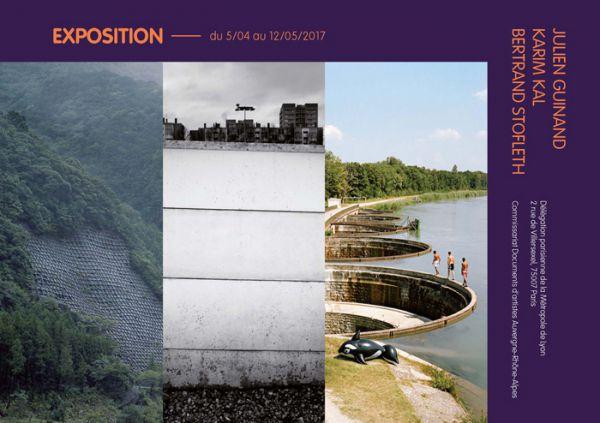 Julien Guinand - Karim Kal - Bertrand Stofleth
Group exhibition
Délégation parisienne de la Métropole de Lyon, Paris
du 05/04/2017 au 12/05/2017
Julien Guinand, Karim Kal, Bertrand Stofleth
Curated by Commissariat Documents d'artistes Auvergne-Rhône-Alpes
Jointly produced with the Réseau documents d'artistes
At the invitation of the Délégation parisienne de la Métropole de Lyon, DDA-RA wanted to construct a group show putting in perspective the works of three contemporary artists living in Lyon.
By way of particular photographic approaches, Julien Guinand, Karim Kal and Bertrand Stofleth develop differing processes for exploring territories, focusing on revealing historical, socio-economic, political and philosophical challenges, which mark our urban landscapes and environments.
The photographic observatories initiated by Bertrand Stofleth develop in a geographical way and over time based on a sequential principle. Proceeding by space-time stratification, he constructs a form of writing involving the memory, uses and changes of landscapes.
Karim Kal casts his eye to the margins of the institutional representations of the public place, questioning the relations of authorities and power struggles taking place in it. Through a system of nighttime shots using a flash which pushes the image towards abstraction, he records social, cultural and political markers incorporated in urban architecture.
Using a philosophical, not to say metaphysical, approach to territory, Julien Guinand for his part strives to capture the balances, tensions and forces which emanate from landscapes, scenes of actions and groups of people. In a form of visual economy, he composes sets of images and sound recordings, bringing an underlying fictional potential out of reality.