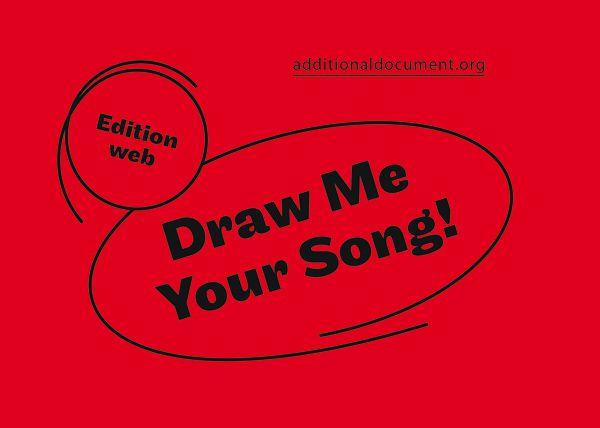 Additionaldocument #3 - DRAW ME YOUR SONG!
Web publication
Denis Brun, John Deneuve, Hildegarde Laszak, Christian Vialard, Julien Tiberi
Web magazine - Edition #3
July - December 2015
Draw Me Your Song! is a project in two chapters, the first consisting of the on-line publication of the web magazine Additional document #3, the second of the exhibition at La Friche Belle de Mai, in Marseille.
The web magazine will mix the experience of works and analysis and raise the question of the permeability of contemporary praxes. Staring with the desire to describe the ceaseless to-ing and fro-ing that occures between disciplines, this third issue titled Draw Me Your Song! is especially interested in the unnatural encounter between drawing and music. In its traditional accepted sense, drawing is the least restricted medium. It is executed in an "autarkic" and solitary experience. Conversely, music is created (usually) collectively, in a shared experience. Through this third issue of Additional Document, we will enter the anticylconic zone in which warm currents mingle with cold currents, become emulsified and grow. A world in which drawing and music are in the same bed, for the better.
Artists, authors : Denis BRUN, Patrice CAILLET, John DENEUVE, Damien DEROUBAIX, Jill GAS- PARINA, Hildegarde LASZAK, Jérôme LEFEVRE, Shrouded and the dinner, Julien TIBERI, Christian VIALARD...
Works, essays, an interview, a collection, documentaries, live music, clips...lively experiments, song recitals, musical images, animated drawings...
Editor Documents d'artistes - Guillaume Mansart et Marceline Matheron
Webmaster Olivier Baudevin, Internet Development Silex Taille Numérique.
Graphic conception Mothi LIMBU
Bilingual magazine - Pleasance Woods Translation
Coproduction Cartel / Documents d'artistes Paca